Tatum Bell Gets Revenge on Rudi Johnson, Steals His Bags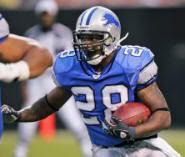 I'm not sure whether or not I should laugh at this story or shake my head at how immature Tatum Bell comes off to be, but it sure seems to be the trend lately. After the Bengals released Rudi Johnson this weekend, the Lions worked him out on Monday and later signed him. In order to add Rudi to the roster, they had to create a spot for him, and they did so by cutting Tatum Bell. According to Pro Football Talk, Bell sophomorically exacted exacted revenge:
Specifically, and as we're told by a reliable source … Johnson left his bags outside CEO Matt Millen's office while he met with team officials and, ultimately, worked out a deal with the team.

So when Johnson came back to get his bags, they were nowhere to be found. Johnson and Millen were stumped.

Enter the eye in the sky.

The team checked the videotapes generated by the team's in-house surveillance system, and they quickly identified the culprit.

So who might it have been? None other than Tatum Bell, who lost his gig with the Lions after Rudi arrived.
Bell apparently went to drop the bags off at some random chick's place who he hadn't seen for a long time. Rudi supposedly got his bags back by the time all was said and done. I'm guessing this story is true since it's so outrageous nobody could just outright make it up. How funny is that? Bitter much? I do suppose it's better than going postal, after all.
(via Ballhype)