Lane Kiffin Is Writing Checks His Team Better be Able to Cash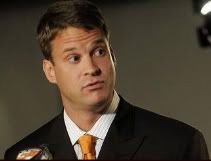 In the brief few months since Lane Kiffin became head coach at Tennessee, he's managed to offend Urban Meyer and Florida football … twice, piss off Nick Saban at Alabama, and take a shot at Steve Spurrier and South Carolina. At first I thought Kiffin's actions were kind of cool — he was trying to step into a down situation and re-energize it; he sought out the biggest dogs in the pack and picked a fight. I liked his moxie and his attitude. But now with this latest story on what he said to recruit Alshon Jeffrey, I'm starting to change my opinion of Lane. Here's Jeffrey explaining his story from the time he decided on attending South Carolina over Southern California and Tennessee:
Kiffin was equally dogged. But when it was obvious that Jeffrey wasn't going to Tennessee, Kiffin took off the gloves.

According to Jeffrey and Wilson, Kiffin told Jeffrey that if he chose the Gamecocks, he would end up pumping gas for the rest of his life like all the other players from that state who had gone to South Carolina.

Jeffrey was doing his best to stay awake at that point, but that comment from Kiffin woke him up. He clearly hasn't forgotten it, either.
Now that's just an unnecessary low blow. It's times like that where true colors and real character are revealed. I'm never one to use negative recruiting as part of my process; I'm all about showing off the positives of our place. Saying something like that can really touch a nerve considering how offensive it is to so many people. It also isn't the smartest thing to say to a kid who's already decided on a school. I'm starting to realize that maybe Kiffin doesn't have a filter and that's why he's saying as much as he is. Like I pointed out, he's writing some checks his team better be able to cash in the fall.