Michigan Football Players Have Zipper Issues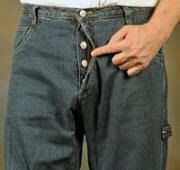 Giving Florida football a run for their money, a couple of Michigan football players had pretrial hearings this week. Sophomore LB Obi Ezeh plead not guilty to drunk driving charges. As for his teammate, junior WR LaTerryal Savoy, well he pleaded guilty to a charge of indecent exposure. But it's his defense that's the real kicker. Check it out:
Nicholas Roumel, the attorney for both players, said Savoy is "absolutely not guilty and did not commit a crime."

Roumel said Savoy turned to say hello to a woman and had forgotten to zip his pants, a case of "accidental exposure."
I'll say this much, I'm definitely going to have to remember that one. That ranks right up there with Pacman's I go to strip clubs for food defense, and Orlando Cepeda's medicinal marijuana defense. Forgetting to zip up the zipper is one thing. I've done that a few times in my day. But come on, are we honestly to believe that some dude didn't realize his wanger was hanging out too? Gimme a break.
*****
College football handicapping picks from the 2006 UHC NCAA football champion! Free Picks offered daily! One of the few honest and respectable sports picks websites on the Internet!