Penalty, 15 Yards for Being Black!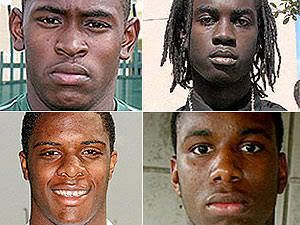 Commenter JS sends me this story, along with the email subject, "Florida State, you just won the BCS National Championship, Where aren't you going?" Quite an appropriate title. The Happiest Place on Earth is apparently not so for some people. Namely, four Florida State football prospects.
Walt Disney World ejected four of Florida State University's top football prospects from Downtown Disney last weekend under its anti-gang, no-loitering policy.
…
"I keep thinking to myself, 'This is crazy,' " said Mark Nugent, stepfather of Vincent Williams, football star at Ridge Community High School in Polk County. "Once they realized they weren't gangbangers, why didn't they let them go? They took their pictures. They fingerprinted them. And treated them like common criminals."
…

"Is it because they're all over 6 feet tall and black?" asked Nugent, who is white. "I want the trespass warnings dropped so the kids can visit Disney if they want. And an apology would be nice."
That…is some messed up stuff right there — so long as the kids were innocent as it's reported. Jacked up stuff.