USC Hires Lane Kiffin to Offend Other Pac-10 Coaches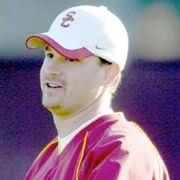 Multiple reports say USC will make Tennessee head coach Lane Kiffin the school's new football coach, replacing Pete Carroll. Lane was an assistant at USC from '01-'06, serving as tight ends coach, then offensive coordinator and recruiting coordinator before accepting the coaching job with the Oakland Raiders. Kiffin just completed his first season as the head coach at Tennessee but he ran into several problems with the NCAA and opposing coaches. His penalty for leaving his Tennessee contract early is supposedly $800,000 and the news comes as a surprise at least to Vols fans. While USC is getting a familiar face, there are several reasons for me to question the hire by USC.
First off, Lane Kiffin was already being investigated by the NCAA for several different potential violations. He got into hot water for talking disparagingly about South Carolina, saying Urban Meyer violated rules when recruiting Nu'Keese Richardson, and then he saw three of his freshman get arrested for attempted robbery. As if that wasn't enough, his hostesses got in trouble for traveling to recruit high school players in South Carolina. This is really the kind of guy USC wants in there especially when they're facing potential problems with the NCAA for the Reggie Bush and Joe McKnight violations? Is there goal to reach Rose Bowls or SMU's fate?
As for Kiffin, I really don't understand how he can in good faith leave Tennessee after just one year. The Vols opened up the door to him, supported him with the highest compensated staff in the country, and he thanks them by bolting after one year. He might actually be doing them a favor because of the problems he had already created but it's still a slap in the face to act excited about getting a job only to leave a year later. We'll never know what Kiffin would have achieved in Knoxville and they now have to start from scratch when other top candidates have already found jobs. That sure was considerate of him and it's no surprise Tennessee fans are already rioting.
Well, what goes around comes around and Lane will probably receive what he deserves — a program about to be punished. Ed Orgeron will probably be able to out-recruit UCLA but what good will it do with only 15 scholarships a year?