Texas CB Tarell Brown sure Loves his Weed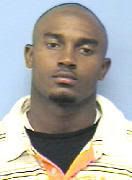 Man, what do you do after a long hard week of workouts for NFL teams as you're preparing yourself for the biggest step of your life — potentially playing professional football? Answer: you smoke a blunt and just chiillll. Well at least that's what Texas CB Tarell Brown allegedly did,
Former defensive back Tarell Brown was arrested on misdemeanor marijuana charges in Williamson County Thursday night.

Brown was out on bond Friday and awaits a drug test next week.

Two days ago he tried out for NFL scouts at UT's Pro Timing Day, hoping to up their draft stock before April 28.
Of course I would be remiss if I did not mention that this is the same Tarell Brown who was arrested for carrying a 9mm gun and two ounces of marijuana the week of the Texas/Ohio St. game last year.
And yes, he survived two taser shocks that night.
Needless to say, the Bengals already have a phone call into his agent.