Dario Franchitti Gets Dissed by Yahoo! after Winning Indy 500
No less than three hours after winning the Greatest Spectacle in Motor Racing, here's what appeared on the homepage of Yahoo!: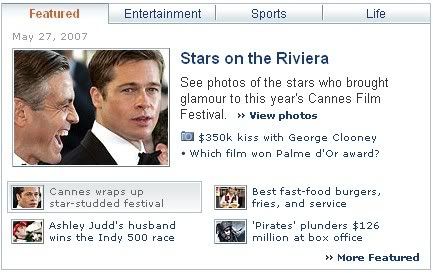 Yes, congrats to the winner of the Indy 500 — Ashley Judd's husband. Seriously. How sad is that? This was pointed out to me by my buddy John Fricke, who was lamenting the diminished relevance of the Indianapolis 500. I see what Yahoo! is doing here — they have this featured on their homepage, where people are more likely to recognize the name "Ashley Judd" than "Dario Franchitti." They figure it's a great way of getting non-sports fans to cross over into the world of athletics. But as a sports fan, this upsets me. Just as the phrase "Eva Longoria's fiance wins NBA championship," would bother me. But the ultimate point John made, aside from the slight towards Dario, was that there was a time in our society, not too long ago, when putting the name of the Indy 500 on the front page of a popular website would have been enough. But then again, if Franchitti weren't married to Judd, would this have even made front page news? Probably not.