Eric Mangini's Secret to Success: Mozart on the Practice Field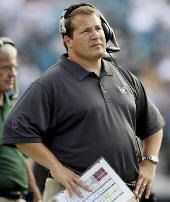 In one of the opening scenes of Get Shorty, Chili Palmer's buddy declares that he's going to start sleeping in a coffee shop. When asked why, the barber cites a newspaper article saying that 90% of people die in their bedrooms. He reasons, "How many people you know died in a coffee shop?" Perhaps Eric Mangini comes from the same line of thinking. From Don Banks at SI:
As he did last year, Mangini has speakers set up at practice in order to pipe in loud music when his offense comes to the line of scrimmage. But the new twist is that he has mixed in some Mozart to go along with the selections of rock and hip-hop. Mangini this offseason researched the effect of Mozart on learning, and he liked what he heard.

"It stimulates the brain waves that influence learning," he told me from his office. "There are a lot of schools that are playing Mozart underneath all day long."
Hate to point out any faulty logic by a young, successful NFL coach nicknamed "Mangenius," but something tells me there's a slight difference between a classroom setting, and a football field. But hey, I guess whatevers clever, you know?
(via our fine friends at Fark)