Jake Delhomme's Worst Nightmare Wasn't Even That Bad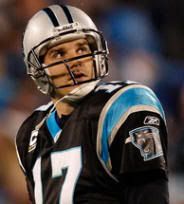 What can you really say after a hideous performance such as the one Jake Delhomme delivered on Saturday night? You're probably at a loss for words if you're Jake Delhomme — and he was. Or as John Fox said, they picked a bad night to have a bad night. Perhaps week five would have been more appropriate for a five interception/six turnover game by your starting quarterback, not the divisional round aka quarterfinals of the NFL playoffs. In what possible universe could one have predicted a six turnover day by Delhomme? If you had told me he was picked off three times and that's why they lost, sure, I'd have no problem believing it. But five interceptions and a fumble? Are you kidding me? Not even nightmares are that bad. Thing is, I understand what Delhomme went through.
Sometimes you just don't have it. Sometimes the defense is so keyed in on you that everywhere you look players are covered and passing lanes are being blocked. Sometimes things get rolling in such a bad way that your body starts to throw into bad coverage feeling there's no choice because the game is already lost. There's no doubt that happened with Delhomme. It's really too bad because after that 7-0 lead, it looked like Carolina was going to get rolling. Not so much. I'm actually surprised they didn't yank him after the fourth interception just to save face. Seriously, at that point you just don't want him getting into the record books for dubious honors. The scary thing is how similar this game was to the win over Oakland back in week 10. This time the defense had Arizona to contend with, not the Raiders. That's just too much to overcome.
As for the Cardinals, they say they're trying to earn the respect of people. Well, getting into the NFC championship game certainly legitimizes you as a team. But while the defense certainly forced Delhomme into horrible throws and made great plays, don't expect such a cake walk in the next round; the game won't be handed to them. Still, an NFC title game run is nothing to laugh at.