Kurt Warner … Hall of Famer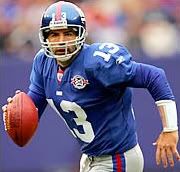 One of the major, unavoidable topics of the week, has been whether or not Kurt Warner is a Hall of Famer. In fact, the pregame talk leading up to the NFC Championship game centered on how much bearing it had on the impending legacy of both Warner and Donovan McNabb. Warner obviously got the edge on that one cementing his legacy as a big-game quarterback, and McNabb as a guy who could get you to a big game but not further than that (which is still a major accomplishment in my eyes). Seems like many people have since been swept up in the euphoria of the Kurt Warner cyclone and want to throw him in the Hall of Fame already. Some people are more rational and feel his performance on Sunday will dictate his place in history. Me? I need to see Kurt Warner have another two stellar seasons and take his team to the playoffs two more times to be sold.
While I have no problem calling Kurt a big-game quarterback, I'm not down with all this talk about him being the best quarterback in football and a Hall of Famer. Here's my main beef: how many Hall of Fame quarterbacks disappeared for five years after being a stud QB? How can you vote for a guy as a Hall of Famer when he stunk during the prime of his career? I guess it's pretty easy for everyone else to just erase the past, but it's not for me. I remember Kurt vividly as a turnover machine. The guy was either burping the ball from center or throwing picks. He stunk up the joint completely in his last two years with the Rams, his year with the Giants, and his first two years with the Cards. Don't remember him fumbling six times against the Giants in '03? I do.
I'm not saying that Warner isn't a pretty spectacular quarterback when he's well-protected, healthy, and playing with lethal weapons — he is. I'm just saying that there were times in his career — a five-year stretch — when he was a below average quarterback in the National Football League. And that to me, does not a Hall of Famer make.