Rod Marinelli Gets the Last Word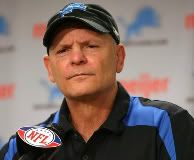 After hearing from Dominic Raiola of the Lions, I really started to ease up on them down the stretch hoping they'd win a game. Naturally it didn't happen and they have gone down as the first 0-16 team in NFL history. Things really got ugly down the stretch when a reporter made a snide comment about Marinelli's son in law, Joe Barry, who also happened to be the team's defensive coordinator. Incidentally, that reporter was later fired. But it was Rod Marinelli, who after taking so much heat from the media (rightfully so), got in the last word:
Former Detroit Lions coach Rod Marinelli was at the Senior Bowl practice this morning but was in no mood to talk to the Detroit media. As three beat writers approached Marinelli, who was sitting in the stands, he told us to get lost in his own charming way.

"Goodbye, ladies," he said.
Apparently Marinelli used to employ that salutation to the reporters when a lady was present, but this time it was nothing but men. I can't say I'm really surprised by this story given Marinelli's history as a tough guy who once wrestled a bear. In the end, it's still Marinelli who loses because it's his team that went 0-16, and really, who won't pick on you for that? At least he's not going out without getting the last word.
(via Pro Football Talk)