Sam Bradford Is the Right Pick for Rams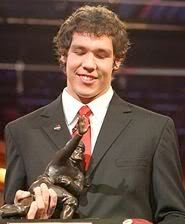 One of the discussion topics for The Washington Post sports panel I'm part of is whether Oklahoma quarterback Sam Bradford is the right choice for the Rams in the first-round of the 2010 NFL Draft. My response to the question centers largely around one issue: value. Here are my thoughts:
I answer this question the same way I did last year with the Detroit Lions. If you feel that there's a quarterback in the draft who will be a franchise QB, then the right move is to take him. For St. Louis, we know they don't have a quarterback and they haven't had good quarterback play the past three years; they desperately need help at that position. From a scouting standpoint, only they can answer the question of whether or not they feel like Bradford can be a a franchise quarterback. If they do, they have to take him.
If you look at the teams that have been successful over the past several seasons, they all have something in common: strong quarterback play. Look at the Colts, Patriots, Eagles, Saints, and Chargers. All those teams have had consistently good quarterback play and they have won consistently. While teams with strong defenses can pop up to make a great run here-and-there, the chances of them falling back to the pack the following year is great. If you look at the recent history of the league, the key to having long-term, consistent success if having a good quarterback.
Even though I feel like Ndamukong Suh and Eric Berry will be All-Pros, the reality is their positions (DT and S) don't have as much of an impact on the game as the quarterback does. In 2009, over half the league's QBs threw for over 20 touchdowns while almost a third of the league surpassed the 4,000 yard mark. Between the Tom Brady rule, roughing the passer penalties, and the strict pass interference calls, the NFL is geared towards passing offenses. If you can't throw it, you're left behind. Only time will tell if Sam Bradford was the guy, but the bottom line is if you feel like you have a franchise quarterback available, you have to take him.
As far as Bradford goes individually, I feel like he has the tools to be successful. He has a good arm and he's extremely accurate. My concern is less about Bradford's shoulder and more about other aspects of his college career. For instance, Bradford was surrounded by outstanding receivers (Juaquin Iglesias and Jermaine Gresham amongst them), and he was protected by a superb offensive line. I think he's the type of guy that will need a major supporting cast to succeed (not unlike many other quarterbacks). Lastly, the offensive coaches did most of the work for Bradford when it came to calling plays and reading defenses. I think it will take Bradford a few years to learn how to call audibles