Tim Tebow Is Not a Real Quarterback and He Was Told to Shut the F*** Up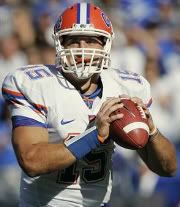 Tuesday was not a good day for Tim Tebow. I do concede that there is no such thing as a bad day for Tim Tebow (SEC title game excluded), but Tuesday had to be up there. First, comments his former Florida teammate, wide receiver Deonte Thompson made on Monday were publicized. Thompson was discussing his work at spring practice with new Florida starter John Brantley and praised his new qb. He also took a shot at Tim Tebow in the process. Here were his comments:
"You never know with Tim," Thompson said. "You can bolt, you think he's running but he'll come up and pass it to you. You just have to be ready at all times. With Brantley, everything's with rhythm, time. You know what I mean, a real quarterback."
Interpret that comment however you please. As a side note, I was thoroughly impressed with Brantley in his backup work with Florida and I'm expecting big things from their offense next year. As if getting semi-bashed by one of your former teammates wasn't bad enough, Pro Football Talk relayed a story from the Wonderlic that anti-god squaders will love. Apparently Tebow was trying to lead his classroom in a prayer prior to the players taking the Wonderlic exam. Here's what PFT says happened: "Said one of the other players in response: "Shut the f–k up." Others players in the room then laughed." One of PFT's commenters summed up the thoughts of many people quite well: "He scored a 22 of 50. He should have studied more and prayed less." Amen to that.
Sources:
Florida Gators WR Deonte Thompson sounds happy to usher in post-Tebow era [Orlando Sentinel]
Tebow's pre-Wonderlic prayer request falls flat [Pro Football Talk]