You Can Adopt Michael Vick's Pitbulls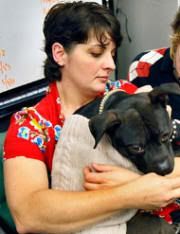 Skeetsie over at Deadspin linked to this over the weekend (his farewell tour at Deadspin), and I would like the chance to elaborate on it here. A few months ago I was worried that Michael Vick's pitbulls were going to get the axe since they were originally raised to fight. Now word has come out that Michael Vick's pitbulls are up for adoption. Hurray!
Five dogs that were rescued from the most notorious dog-fighting kennel in the country trotted out in Oakland on Friday to meet the public, wag their tails and try to dispel some long-standing human prejudices about canines.
…
Michael Vick's former dogs are among scores of pit bulls available for adoption from the Bad Rap kennel in Oakland. Prospective owners must pass a rigorous screening and pay $150. More information is available on the group's Web site, www.bad rap.org.
Now that's one hell of a souvenir. I might have to make the drive up to Oakland for the occasion. I say we start a fund raising project to buy one of the dogs — if there's one thing LBS is missing, it's definitely a mascot. Anybody in?
(photo credit Paul Chinn/SF Chronicle)