Landon Donovan Has Love Child in U.K.?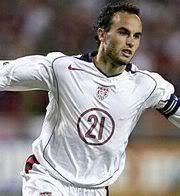 It's amazing the way things can change so quickly. Landon Donovan gained hero status in the U.S. with a late goal to beat Algeria 1-0 giving the U.S. the Group C win. Donovan also scored the lone goal in USA's loss to Ghana, and the first of two U.S. goals against Slovenia. But you know the way things work — they can only stay golden for so long before the moment is ruined.
The U.S. soccer bandwagon came apart on Saturday with the loss to Ghana and Donovan said the team was "naive" going into the game. They seemed unfocused as they fell behind early on and were outplayed most of the match. Maybe "distracted" was the word Donovan should have used. Grant Wahl of SI found out that a U.K. tabloid was prepared to run a story that Donovan knocked up a woman while he was on loan from the Galaxy to Everton in England earlier this year.
Donovan told Wahl he was made aware of the report during the World Cup which I'm sure didn't exactly put his mind at ease. I don't know when he found out the information but he sure played well for a guy who just had a bomb dropped on him. As if this report wasn't bad enough, it comes at a time when Donovan was optimistic that his failing marriage was on its way to being repaired. I guess you can never have it all.
Sources:
Donovan addresses imminent U.K. tabloid report [Grant Wahl/SI]