Daniel Briere Signs With Phillies
Why not, they could use the offensive production, right? Those filthy devils at fark were at it again, directing me to this headline (which has since been changed). But not this one: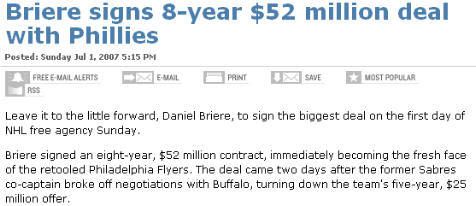 Thanks to Greg Bergman, who like a keen bloodhound, put me onto the scent of the trail. Seriously, I'll admit I've made plenty of mistakes before (this entire site would fit under that headline), but come on, how can you make a mistake like that? Guess that's what you get for leaving the intern in charge over the weekend.
(also see Awful Announcing)