Floyd Mayweather Jr. Rips on HBO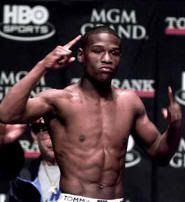 Wow, this interview sure explains a lot. In an interview with The Grand Rapids Press, Floyd Mayweather Jr. revealed a lot about himself and his feelings that can really help to explain what's been going on his career lately. Before I get to the part where Pretty Boy hammers Jim Lampley and calls HBO's boxing announcers racist, I'll share some of what I found quite interesting.
Pretty Boy says that he was coerced into pleading no contest in a case where he hadn't done anything just to clear the incident up so that he could fight on pay-per-view. He also says that he's made such strong investments that he expects to be a billionaire by the end of the year. Now that's highly debatable, but it tells us that he doesn't need boxing anymore because he's already seemingly set for life. Additionally, Floyd expressed a desire to be in good mental and physical state later on in life, which helps explain why he's in no need to fight anymore. OK, now on for the real meat.
Pretty Boy essentially says there's a double-standard between the criticism he takes on-air and the lack of criticism and accountability for the people on air, specifically, Jim Lampley:
"Jim Lampley, Larry Merchant, Emanuel Steward, they're always talking about the negative things in my life," Mayweather said. "But I've seen Jim Lampley in the same strip club as me before. They always want to talk about me going to strip clubs, but they don't want to talk about that.
…
"He caught a court case himself, too. But when they catch a case, all they do is take them off the air a couple weeks, then it's over."

Lampley, the lead announcer on HBO boxing, last year received three years' probation for violating a restraining order brought by a live-in girlfriend who accused him of domestic abuse. Lampley never was charged on the original abuse complaint.
Floyd's dead on about this point — it's pretty clear that Lampley's involved in some shady crap and has no business mentioning stuff about sketchy backgrounds. I'm also surprised HBO just swept his issues under the rug, too. OK, as for the racism comments:
"Even a guy like Jim Lampley, he praises Kelly Pavlik — who has won some good fights, he beat Jermain Taylor twice, we have to give him credit for that — but they talk about Kelly Pavlik, a white fighter, like he's the second coming Or they go crazy over Manny Pacquiao. But I'm a black fighter," Mayweather said. "Is it racial? Absolutely. They praise white fighters, they praise Hispanic fighters, whatever. But black fighters, they never praise.

"I've noticed it for a long time but I couldn't say anything because I had to do business with them. I'll still do business with them, but I'm done holding my tongue. I think HBO is great. But their announcers are full of (expletive)."
In so many words, Mayweather's reached the point where he has "**** you money" and can feels he can say anything he wants. As for the truth behind this, I really haven't followed the commentary on HBO closely enough to be able to make a judgment. Regardless, I enjoyed his interview and thought it was quite an introspective look into Pretty Boy's mindset, and I also agree that broadcasters should be held just as accountable for their transgressions as athletes are.