Can Roger Federer Capitalize on Rafael Nadal's Biggest Gift?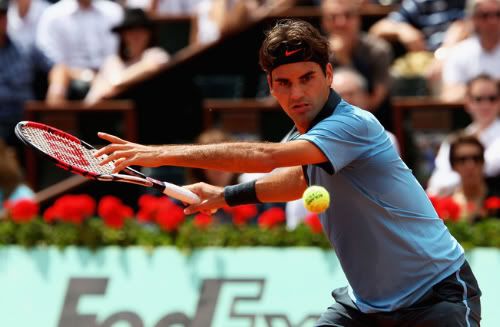 One of the biggest upsets you'll see in sports this year occurred over the weekend. Spaniard Rafael Nadal, undefeated in his career and a four-time champion at the French Open, lost in four sets in the fourth round to Robin Soderling. Now the loss isn't significant because of its impact on Nadal — he was bound to lose at Roland Garros eventually; the loss is most meaningful to former number one player in the world, Roger Federer.
While Federer has enjoyed tremendous success throughout his career, the major knock against him was that he never won the French Open and that his dominance was limited to the grass and hard court surfaces. Sure, Nadal may have passed him up recently and even beaten him at Wimbledon, but winning the French would cap off one of the top careers the sport has seen. What would Rod Laver supporters have to say should Federer win on clay? Moreover, a win at the French Open would not only give Federer the coveted title he's been missing, it would also tie him with Pete Sampras for the most all-time singles grand slam titles at 14. With the U.S. Open and Wimbledon coming up, it's highly likely that Fed would break Sampras' record by the end of the year.
Following his surprising loss to Soderling, Nadal said that Federer was the favorite to win it all. Roger didn't look like anyone's favorite going five sets to beat Tommy Haas, but the message is clear: The title is tangible for Federer. While Roger could use the French to quiet all the detractors, his legacy will still be strong without it. He still has an excellent chance of beating Sampras' mark of 14 and unlike Pete, Federer actually competed well at Roland Garros, making it to the finals three times. It just so happens that he was defeated by the man who might be the best clay court player of all time, Rafael Nadal. It might also be that this was Rafa's gift to Roger for making him cry at the Australian Open.