Venus, Serena Dropped the Ball with Shahar Pe'er in Dubai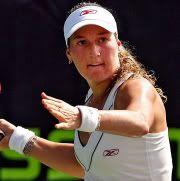 Earlier this week the Barclays Dubai WTA tournament didn't let Israeli player Shahar Pe'er play in the tournament. Specifically the United Arab Emirates did not allow her a visa into the country citing security issues because she's Jewish. The WTA considered canceling the tournament but determined it wouldn't be fair to all the other players who had already arrived in Dubai and were prepared to play. They also threatened not to return to Dubai next year. Since then, the UAE has said they will grant a visa to Andy Ram, an Israeli male, so he can participate in the men's tournament next week. I'm particularly perturbed that more tennis players didn't stand up for Pe'er and threaten to boycott the tournament for their blatantly discriminatory practice. I'm also upset with Venus Williams and Serena Williams for not stepping up when the opportunity presented itself. Here was Venus' reasoning:
"I have to look at the bigger picture. The big picture is that Shahar Peer didn't get a chance to play, but making an immediate decision we also have to look at sponsors, fans and everyone who has invested a lot in the tournament.
…
There are so many other people involved. Sponsors are important to us," Williams said. "We wouldn't be here without sponsors and we can't let them down. Whatever we do, we need to do as a team – players, sponsors, tour and whoever – and not all break off in one direction. We are team players."
What disappoints me is that in a time when Venus had a chance to step up and make a statement against what she knows is wrong, she decided to recite the company line and cite economical reasons. The reason I single out the Williams sisters is because they are two of the biggest names on the tour and because they have experienced racial discrimination in their lives. If anyone would know how badly Pe'er feels and how important it is to speak up at a time like this, I would think it would be them. Moreover, from what I could tell, they were the only American women (and certainly by far the most prominent if there were others) in the tournament, representing a country that stands for equal rights and democracy. If ever there was a time to take a stand, this was it. It's a shame that they and the other women didn't speak up.