Andrew McCutchen Gives Pirates Fans Hope for the Future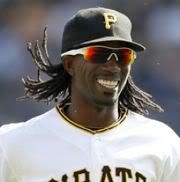 The Pittsburgh Pirates are rarely talked about. It's been years since they've had anything to be excited about because they keep trading away all their decent or better players.  But now they have center fielder Andrew McCutchen, a young outfielder who last year said he was "just a step away from reaching his dreams." Now at the Major League level for the second straight year, McCutchen is a symbol of hope for a deprived fan base.
The Pirates haven't had a winning season since 1992 so the people of the Pirates organization can't help but smile watching him play. Pirates outfielder Ryan Church commented on McCutchen's wheels saying, "He's so damn quick, it's amazing. It looks like he's just floating through the air." It's no surprise to read that when McCutchen was called up from Triple-A last year people said he was playing "like a 10-year veteran." McCutchen has been turning heads in the big leagues ever since.
Despite my praise of McCutchen, I'm not crazy enough to think the Pirates winning season drought of 17 years will finally come to an end. Still, Pirates fans should be smiling when they get to see their speedy leadoff man and center fielder for he is their future. If their farm system can keep producing young talent like it has with McCutchen, we may soon see a different team competing for a top spot in the NL Central.
Sources:
Biding his time [Midwest Baseball Magazine]
A reason to believe in Pittsburgh [ESPN]