It Was Time for Piniella to Call it Quits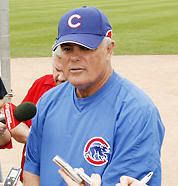 On Tuesday, word leaked that Chicago Cubs skipper Lou Piniella would be retiring at the end of the 2010 season.  Piniella said that he made this decision at this point in the season so that GM Jim Hendry would have ample time to find his replacement. I say it's about time.
Piniella's four years in Chicago have been interesting to say the least. In his time with the Cubs he led them to back-to-back NL Central titles in 2007 and 2008. Whether it was the pressure of the playoffs, bad managing, or the mythical goat curse on the Cubs, they failed to win a postseason series. They had a disappointing 2009 season and presently sit 10.5 games out of first place and 10 games under .500. I think it's fair to say that Sweet Lou stopped managing a while ago.
I don't blame him. I would be frustrated too. The Cubs have a very talented roster and have even had some surprises this year with the success of Carlos Silva and the performances by rookies Starlin Castro and Tyler Colvin, yet they can't seem to put the puzzle together. Fans are frustrated, players are frustrated, and obviously Piniella is just tired of watching the boys in blue and white go out and stink day after day.
Piniella is going to be 67 years old — he doesn't need to watch this anymore. Like I said, I don't think he's been contributing much this season anyways. Now the real job will be for Hendry to go out and find someone who can shine a light on the Northside of Chicago and give the Cubs at least a shot a winning something.
Sources:
Piniella to Retire as Cubs Manager [ESPN Chicago]