Is Ozzie Wearing Thin on Ken Williams?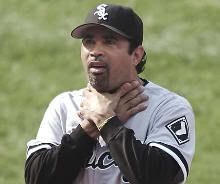 Ozzie Guillen went on one of his beautiful rants yesterday after the White Sox had lost their third game in four to the Rays. Never mind the fact that the White Sox are first place in their division by one game and over .500 by four despite losing three in a row, Ozzie still was not happy with his club. He promised changes on Tuesday, clearly dissatisfied with the lack of offensive production by the team. His rant was amusing as usual, though not quite Hall of Fame material as it so often is. One person who would not share my opinion however, was GM Kenny Williams. Williams was perturbed Ozzie was saying the White Sox need to make changes — a suggestion that falls under Kenny's umbrella of responsibility.
"Very interesting, very disappointing. It's never a good idea to throw your boss under the bus, especially when that boss has had his back as much as I have. I guess that lineup will be real interesting to see on Tuesday.

We have the horses. Everyone has to stay positive and keep grinding. If you're looking for a quick fix personnel-wise, with the climate right now, you're not going to get it. I expect more of everyone in that uniform and certainly the guy leading the team on the field."
Baseball's season lasts 162 games. You can't just flip your lid every time your team loses three games in a row and strands runners in scoring position — that's what the fans do. You figure the manager should be more calm and sensible about things, unless you're Ozzie Guillen of course. I'm actually surprised Williams reacted the way he did. I figure he would just sweep it under the rug and move on, knowing that's just Ozzie being Ozzie. But this is the same Ken Williams who came out and aired the dirty laundry with Frank Thomas, so it's pretty clear he likes to keep a fresh image in front of the press. Probably wasn't worth doing this time.