Pirates Fans Planning a Walkout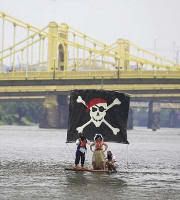 Last year it was Orioles fans, this year, Pirates fans. Apparently. Following the third inning of Saturday's game against the Nationals, Pirates fans are expected to walk out of the stadium to express their displeasure with the organization. Team leaders Jason Bay and Jack Wilson didn't have much of a comment in response, but the team sure has. They are planning to ignore the walkout as best as possible:
They have asked their television announcing crew not to discuss the walkout with the media. They have removed all comments about the walkout from their message board at pirates.com. They have the support of their television rights holder, FSN Pittsburgh, which does not plan to show the protest as part of its game coverage.
…
Contacted about the protest, Greg Brown, who will do the play-by-play of the telecast along with [Bob] Walk, said, "I have been asked by the Pirates not to comment and refer all calls to Brian Warecki."

Warecki, the team's senior director of communications, issued this statement via e-mail:

"We greatly appreciate the passion of all of our fans and their freedom to express that passion in any way they choose."
No surprise that the teams is trying to downplay it as best as possible — they have to worry about putting 15,000 butts in seats on a daily basis! To counter Warecki's email however, doesn't sound like they appreciate the fans expressing their passion in this manner. Man, 15 years of losing, that really stinks. And that's coming from a Bengals fan (sort of).