Benny the Bull Holds Grudges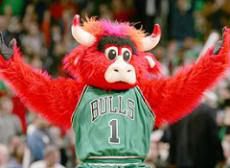 What is it with mascots these days? You had the Oregon Duck go after the Houston Cougar even teabagging the fool, you had Coco Crisp get run over by the Mariner Moose, and now Benny the Bull is taking target practice on opponents? SpinMax emails in with the news that Benny the Bull took a couple shots at some of the Celtics during Tuesday's game:
Kevin Garnett and James Posey engaged in some late-game trash talking
with Benny the Bull.

"Bulls can talk," said Garnett, who initially was upset after he and Posey were hit in the back by clothing fired from a T-shirt launcher during a timeout in the closing minutes of the C's 106-92 victory. "Walking off the floor we got hit by some shirts."
…
"I don't know – I feel threatened," Posey said. "I don't feel safe. They really have tough love here, but it was definitely an inside job. They made the mascot do it. I got hit in the back walking away. That spot on my back is sore. I might have to get treatment on it."
I really wish I could have heard Posey's comments to see if he was being serious or sarcastic. One thing we do know is that these mascots are getting completely out of hand. Shooting opponents — even with a T-shirt gun — is inappropriate. And this might not be a surprise considering Benny has a criminal record. Maybe Benny's jacked up personal life is bleeding over into his professional world.