Derrick Rose Failed the ACT Three Times in Chicago, Passed SAT in Detroit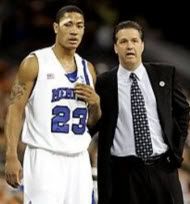 Or I guess as it were, someone else passed the SAT for Derrick Rose in Detroit. Memphis finally got its sentence from the NCAA and they were forced to vacate the 38-win season of two years ago and pay back the money they made from going to the tournament. The reason for the sentence is that one of its players from that team — Derrick Rose — was ruled ineligible because his SAT score was canceled. That is something we already knew. What's new is the information revealed that Rose failed the ACT three times in his hometown of Chicago, yet somehow miraculously he traveled to Detroit for the SAT where he passed. Riiight. It's pretty darn clear already that someone else took it for him. The one question is how Rose's passed test emanated from Detroit. The answer to that is pretty simple, but one most fans would never know: Worldwide Wes.
As Gary Parrish pointed out, via The Dagger, Worldwide Wes (William Wesley) is based out of Detroit and it's long been established that he helped steer Rose to John Calipari at Memphis. Wes, whom most fans have never heard of, is considered to be one of the biggest powerbrokers in the NBA. Wes helped bring prized recruit DaJuan Wagner to Memphis and Calipari obliged by hiring Wagner's dad onto his staff. Since then, Wes has helped send Rose, Chris Douglas-Roberts, and Tyreke Evans to Memphis. Calipari has even called Wes a "goodwill ambassador" to the Memphis program.
So now the pieces of the puzzle are starting to fit together, and the dots between Rose, Calipari, the suspicious SAT test, and Detroit have all been connected. And just like I said three months ago, sounds like John Calipari helped Derrick Rose cheat on the SAT, or at the very least, knew exactly what he was up to.
By the way, the Worldwide Wes connection helps explain how Malik Hairston, the hot prospect from Detroit, wound up all the way across the country at Oregon, which up until now always remained a question for me. Wes has major connections at Nike. And now that riddle has finally been solved.
Lastly, someone remind me how after reading this they still support a "players must go to college before the NBA" rule. Let's not mess around — these guys are basketball players, not students, and they're only funneled into a program for a year where they'll pass the time until the draft. Can't we just skip that process?