Latrell Sprewell Selling Yacht to Feed His Family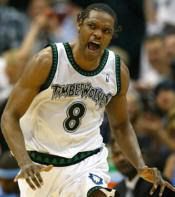 Makes him look pretty stupid now for having rejected that $21 million contract. You know, hard to work on only 7 mil a year when you got a family to feed. No, not a slap in the face to the rest of us squeezing out 35 g's a year, spending a week's pay on NBA tickets, nothing like that. Anyway, I'm sure all of you are probably clamoring for a Spree update, and here it is:
Former NBA star Latrell Sprewell's home is up for foreclosure and his yacht sold at auction to help pay off the $1.3 million he owes on the boat, according to court filings.
…
RBS Citizens NA, or Citizens Bank, filed a foreclosure suit last week in Milwaukee County for the $405,000 home Sprewell bought in the Milwaukee suburb of River Hills in 1994.

In court documents, the bank said Sprewell owed $295,138 in outstanding payments plus interest.
And here might be the best part: the yacht Spree bought back when he was making some bank is called "Milwaukee's Best." Gotta love the sense of humor. Well, guess all the embarrassment he caused the league by his choking incident with P.J. back in the day has come back around and hit him in a bad way. Nothing quite says "here's a kick to your manhood in the groin" like getting possessions seized by the government. Couldn't happen to a better guy.