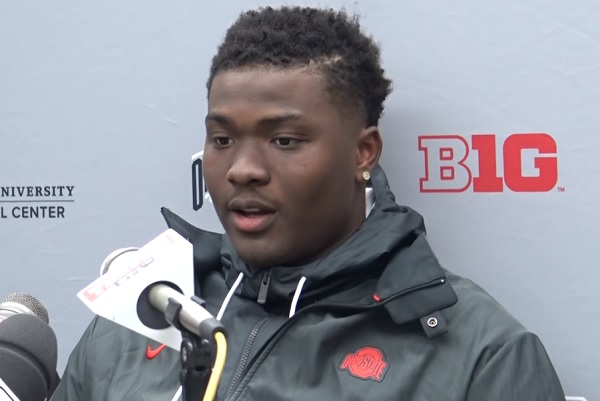 Dwayne Haskins going 15th overall to the Washington Redskins was a great moment for him personally, but also a pretty nice one for the Big Ten.
Though the conference has produced its share of talented quarterbacks over the last two and a half decades, the Ohio State star became the first Big Ten quarterback to be selected in the first round since 1995, when the Carolina Panthers made Penn State's Kerry Collins the fifth overall pick.
And there it is: Dwayne Haskins Jr. ends the Big Ten's incredible drought of first-round picks at QB. He's the first B1G QB to go in the first round since Penn State's Kerry Collins went No. 5 overall in 1995.

— Adam Rittenberg (@ESPNRittenberg) April 26, 2019
Tom Brady, Drew Brees, and Russell Wilson all came from Big Ten schools, but none were first round selections. It's a rather surprising stat when you consider all that talent, so the pressure is on Haskins to live up to it from an even greater draft position.
Kyler Murray helped Oklahoma make history on Thursday night when the Sooners became the first team in history to have back-to-back No. 1 overall draft picks at the same position, and Jalen Hurts is hoping to put that record even further out of reach in 2020.
Hurts decided to transfer from Alabama to Oklahoma earlier this year, and he is the favorite to earn the starting job for the Sooners next season. After the Arizona Cardinals took Murray with the first overall pick in the draft, Hurts had a great reaction.
Well lol..

— Jalen Hurts (@JalenHurts) April 26, 2019
While Hurts may not end up being the No. 1 pick in next year's draft, he is certainly in good hands under Lincoln Riley at Oklahoma. It's no coincidence that Baker Mayfield and Murray both won the Heisman Trophy, and we saw what Hurts was capable of at Alabama. He has the experience and talent needed to step in and put up huge numbers in Riley's offense.
Riley recently made it seem like Hurts is not a lock to win the starting job, but it would be a surprise if redshirt freshman Tanner Mordecai beat him out. If Hurts is already thinking about being the top pick in the draft, Riley has to love the ambition.
Dabo Swinney defended Clemson's schedule against those who say it's not very challenging.
Swinney spoke this week at the College Football Hall of Fame where he was accepting the NFF MacArthur Bowl on behalf of the national champs. He was asked about the Tigers' schedule for 2019, which is ranked by ESPN as the 56th toughest among FBS teams. He disagreed with a reporter who characterized the ACC as not very competitive.
"I couldn't disagree more with how you phrased the question. There's no lack of competition in our league," Swinney said in a YouTube video posted by Clemson Insider, as transcribed by Saturday Down South. "There's a reason we've won two out of the last three national championships and it's not because we don't play anybody. We've played everybody. We've played Alabama three times in national championships. We've played Ohio State, Oklahoma, we play Texas A&M, we play South Carolina every year.
"Our league, I think we had 11 bowl teams this year, 10 the year before, 11 the year before that. Our league is incredibly competitive and deep."
Few believe the competition in the ACC matches the level in the SEC, but there's no doubt Clemson has proven itself to be a class above the rest of its conference and pretty much every other team in college football lately, aside from Alabama. And while they cannot help how strong the rest of the ACC is, they do face South Carolina and Texas A&M non-conference, so they're certainly not hiding from the tough teams. And why should they? They have a great young roster and are favored to reach the CFP title game yet again.
This sort of line of questioning is nothing new for Swinney, who spent time last year defended the team's schedule as well.
Reggie Bush is getting set to begin his work with FOX's new college football pregame show this year, but he may have some trouble with access when the network needs to cover his alma mater. USC was forced to permanently dissociate itself from Bush after an investigation revealed the former running back received improper benefits while in school, and the NCAA has shown no signs of lifting the ban.
A USC official told Arash Markazi of the Los Angeles Times that USC is willing to work with the NCAA to make accommodations if Bush needs to attend a Trojans game or practice as part of his new job with FOX, but the NCAA has ignored any calls and requests. USC has tried on at least three occasions to have the Bush ban reduced or overturned.
"USC has long said that we would love to have Reggie back around campus but the NCAA has mandated the school permanently disassociate from Reggie," USC sports information director Tim Tessalone told Markazi. "If we did so it would lead to further NCAA penalties. We have tried several times to appeal the permanent disassociation with no luck. We would love to have him back. We're going to keep trying but this isn't a USC decision."
Matt Leinart, who played with Bush and won a since-vacated national championship with him, will be working alongside his former teammate on FOX's pregame show. He called the situation with Bush and USC "a travesty."
"I understand the situation and what happened but we're 13 years removed from it now and there's still this black cloud hovering over him," Leinart said. "I just wish the NCAA would allow him to move on. It just needs to stop. It's ridiculous."
Bush said he has had no contact at all with USC. He added that he would love to be a part of the school again but understands the situation is not one he can control.
FOX has already hired some very big names in an attempt to rival ESPN's "College GameDay," so Bush not being able to cover USC games and practices probably would not be a huge issue. Still, you can understand why so many people involved are hoping the NCAA will revisit the decision.
Mark Richt abruptly stepped down as Miami's coach at the end of last season, and at least as it stands, that will be his last job.
Richt announced Saturday that he was joining the ACC Network as an analyst, and said that it was "not in the plans" to return to coaching in the future.
"I'm really excited about this ACC Network opportunity," Richt said, via Andrea Adelson of ESPN. "And I think I can help the fans enjoy the game more and understand the game more and it allows me to keep staying involved with this game of football. And it also gives me time to see our grandchildren more and our own children. So right now, I'm mostly focused on that."
The door is always going to be open for him to change his mind. However, Richt has already started picking up TV work, and he sounds done. It's a bit surprising, as he's only 59 years old.
Kansas State wide receiver Hunter Rison has been suspended indefinitely following a Friday arrest on domestic battery charges, according to the Mercury.
The charge is related to "domestic battery/knowing or reckless bodily to family/person in dating relationship," and Rison has been released on $1,000 bail, per the Mercury.
Hunter Rison is the son of former NFL wide receiver Andre Rison, who played for 12 seasons in the league. The younger Rison transferred last year from his father's alma mater, Michigan State University, and sat out the 2018 season at Kansas State.
He was expected to compete for a starting wide receiver position with the Wildcats under new coach Chris Klieman.
The rivalry between Michigan and Michigan State is as real as it gets for Rashan Gary.
Gary, 21, has decided to leave Michigan following three seasons at the school to enter the NFL Draft, where he's expected to be a high pick. The defensive lineman conducted an interview Thursday with "The Rich Eisen Show" and was sure to jab Michigan State with multiple "little sister" references.
You can hear it around the 7:00 minute mark in the interview:
.@UMichFootball @RashanAGary told us about his #NFLDraft process and where he's going to be next Thursday, when he'll presumably be a 1st Round pick: pic.twitter.com/dzfItSbrO6

— Rich Eisen Show (@RichEisenShow) April 18, 2019
Gary's Wolverines beat Michigan State 21-7 in East Lansing last season. The game featured controversy, which began with Devin Bush defacing the Spartans logo on the field before the game. The Wolverines won two of their three games against the Spartans during Gary's time in school. We can only imagine how things will go if he ends up on an NFL team with plenty of Michigan State players.
pixel2