UCLA Fans Can't Whine About Villanova's Home Court Advantage in Philly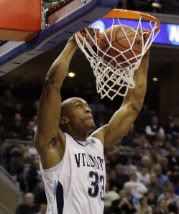 One aspect of this year's tournament that immediately jumps out at you is how few upsets there were. For the first time ever, all top three seeds in each region advanced to the Sweet 16. As it has been under the pod system, many of the top teams are rewarded by being placed in a region that will allow them to play close to home in the early rounds. Both Duke and North Carolina got to play in Greensboro which is in their home state. Even Washington and Gonzaga got to play in Portland which is much closer to Seattle and Spokane than say Bowling Green and West Lafayette. And as UCLA fans well know, Villanova got to play in its home city of Philadelphia, which no doubt proved to be an advantage. I somewhat got caught up in this when I talked about it on the radio but I also must remind myself to stay balanced.
Last year UCLA got to play its first two games of the tournament in Anaheim, only 50 miles south of the campus and nearby a good portion of their fanbase. Without that advantage, the outcome of the two-point win over Texas A&M could have been different (Darren Collison even said so after the game). Two years ago the Bruins got to play their first two games in Sacramento and their next two games in San Jose for the regionals, all within the home state (quite an advantage for the two seed over the one seed — Kansas). In 2006, another Final Four season for the Bruins, UCLA got to play its first two games in San Diego (four hours closer to campus than Sacramento), and the two regional games in Oakland. Again, they never left the state en route to the Final Four.
Complain all you want about the pod system and the way it gives top seeded teams the advantage of playing close to home, or the way it makes teams in the "West Region" (like UConn) play its first and second round games in Philadelphia (go figure). I just need to remind myself and other Bruins fans that we can't bitch about the bad luck in playing in Villanova's back yard when we had the same advantage three years in a row. And maybe it's not such a bad thing considering it rewards consistent winning during the regular season, something I always preach and support. But if you want more upsets, take away the home court advantage gained with the pod system.