Tennessee WR Ahmad Paige Ran Into a Brick Wall … and Lived to Tell About it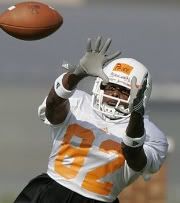 I do suppose that's better than butting your head against one. So actually, this is a true story that happened on the field, not off of it as a stupid stunt like some of you might be thinking. The Vols had actually just opened up a practice on Friday to the fans when something bad happened.
Wide receiver Ahmad Paige suffered an undisclosed neck injury when he ran into a brick wall in the corner of the end zone at Neyland Stadium late in the Volunteers' practice, silencing a crowd of about 2,000 fans.

Kiffin said Paige was able to talk and had movement in his arms and legs, but he was placed on a backboard and transported to a nearby emergency room as a precaution.
I think (and hope) that Paige is doing well. I guess when they said that people would run through a brick wall for Lane Kiffin, they weren't joking. By the way, end zones are starting to get pretty scary these days. And since we're on the subject of Lane Kiffin too, I'm starting to doubt his character more and more and think Al Davis isn't (as) crazy as we thought he was.