Jim Brown: Trent Richardson trade was a 'brilliant move' for Browns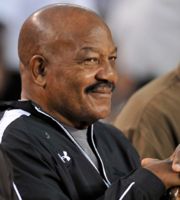 For whatever reason, Cleveland Browns legend Jim Brown was never a fan of Trent Richardson. Brown disagreed with the team's decision to use the No. 3 overall pick on Richardson in last year's draft, saying that he felt the former Alabama star is "ordinary" and was simply the best back in a class that was below average. For that reason, we should not be surprised that Brown felt trading Richardson to the Indianapolis Colts was a wise decision.
"I was surprised," Brown said Wednesday on Showtime's Inside the NFL, by way of Eye on Football. "But then I thought it was a brilliant move … Because first of all, Trent [Richardson] couldn't have carried the kind of load that Cleveland needed."
Again, not a shock. I don't know if Richardson is "ordinary" or not. He's only in his second season in the NFL, so time will tell if he can be the explosive back everyone expects him to be in Indianapolis. However, I tend to agree with Brown that a running back has to be incredibly special to use a top-five pick on with the way the NFL emphasizes passing now.
Former Browns president Mike Holmgren ripped Cleveland for trading Richardson. As expected, Brown was happy to disagree with the man he openly admits he never saw eye-to-eye with.
"[Holmgren] had all his boys that were going to come in and take advantage of the kind of money that he could pay his guys and never really be there," Browns reiterated. "He took advantage of Randy [Lerner] and it was just a shame. Randy's a good guy. Young owner. Wanted someone to take the pressure off of him. Mike came in, saw the weakness and took advantage of it."
It's tough to judge the trade until we see what the Browns are able to get with the pick they acquired from the Colts. At the moment, there's really no arguing that the Colts got the better end of the deal.