Marcus Vick Avoids the Spotlight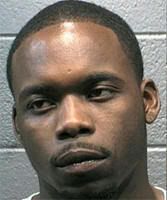 It's almost like a law. If you are a member of the Vick family, you must have a brush with local authorities at least once a year or they remove you from the lineage and strip you of your last name. Marcus Vick continued to prove why he's Michael's younger brother, getting arrested for DUI on Friday. The best part was that Vick was initially stopped by a bicycle cop because he was having an issue with a female. Showing complete disdain for a bicycle cop — as well he should — he sped off before finally being chased down minutes later.
Not one for bland times, Marcus failed a field sobriety test (apparently he doesn't talk to Cedric Benson), and was charged with DUI, misdemeanor eluding police, reckless driving, driving on the wrong side of the word, and driving with a suspended license. That is quite the laundry list of activities. Talk about an exciting Thursday night. And I thought things were bad when he flashed a gun at a McDonald's to kids who were making fun of him. Boy did I underestimate Mr. Vick. By the way, I wonder what he's doing to support himself these days.