Trashing Eric Mangini Is Trend of the Week for Players, Media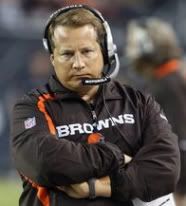 One of the go-to topics for LBS is ripping on Eric Mangini. The guy thinks so highly of himself and his teams that it's just laughable. Plus, when stories emerge such as ones where he fined a guy $1,701 for taking a water bottle from the hotel minibar, there's no choice but to rip him. I've actually eased off this subject because it's just so easy and because I think there comes a point where things get too excessive. In other words, people are kicking him while he's down. For instance, just scrolling through Fark Sports and you'll find three Mangini-crushing stories.
The first story is about Mangini playing dumb regarding Brady Quinn's contract salary escalators. Mangini essentially claimed he didn't know that Brady Quinn makes more money the more he plays. For Mangini to say he doesn't know anything about that is absurd; he knows very well what's at stake financially. The next story regards Jets first round pick from last year, linebacker Vernon Gholston. Since he's been a bust, the NY Daily News went out of its way to say people in the organization blame the pick on Mangini. Finally, running back Jamal Lewis said Mangini wears them out in practice during the week and that's why the team gets hammered on Sundays. This seems like a chicken/egg scenario, but since Mangini's method is not working, I'd side with Lewis.
It's so typical the way the media operates, piling on to a guy when his team is 1-7. Mangini is worthy of plenty of criticism but it seems like it's deserved. The question is why people keep empowering him? As a Bengals fan, I hope Cleveland continues to believe he'll be the guy to turn around the franchise. The only thing better would be if Baltimore or Pittsburgh hired him.