Secretive Mangini Has No Business Being This Coy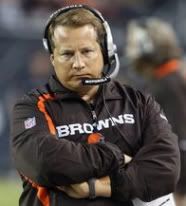 You hear and read about a lot of groaning from fans and media members when coaches are tight wods about answering questions or letting people watch practices. It's pretty simple — you're denying access to people whose jobs are to cover the teams and likewise fans are denied information they covet. It's pretty much a lose-lose deal unless the team is winning. If the team is winning, well then hey nobody cares if they're practicing communism on the side, right? This is sort of the deal with Bill Belichick; nobody can stand the guy because he stonewalls you like he's darth vader but at least we have respect because of what his teams accomplish on the field. Eric Mangini-coached teams however have not accomplished anything noteworthy, meaning he doesn't have the right to be as sly and secretive as he is.
On Wednesday we found out that Browns coach Eric Mangini notified the team of his decision regarding the starting quarterback. He refrained from telling the media because he wanted his opponent to have as little information as possible so that they'd spend time preparing for both Brady Quinn and Derek Anderson. Players leaked the info out because let's be real — who can keep a secret these days especially when it's reporters job's to find out this information — and Mangini's little game was ruined. Great, Mangini wanted to give himself his perceived competitive advantage but everyone knew it would be Quinn anyway so why play games? As if that wasn't enough, Brett Favre also let it be known on Wednesday that the Jets knew about his biceps tear all last season. Even though a torn biceps is a pretty serious injury especially on the throwing arm of a quarterback who throws a lot, Favre was never once mentioned on the team's injury report. And guess who was the coach of that Jets team and the one responsible for putting out the injury report? Eric Mangini.
Maybe if the Mangenius placed the Golden Arm on the injury report then about half of New York would have called in to knock some sense in the guy and his team wouldn't have gone down in flames. Way to hang your player out to dry there, buddy. Also it's mighty convenient of Favre to now admit he was garbage and that he should have ceded the job to Kellen Clemens. His comments seem so nonchalant and it comes across as he's pinning the blame on the coaching staff and not himself. Sounds just like the master work of #4's ego who's coming up with an excuse for playing like crap the final five games.
Anyway, these secrets and games are no way to handle things and they're particularly more agitating when you're 23-25 as a head coach. It'll be awfully fun watching Mangini's Browns get trounced this weekend — maybe then he won't be acting like coaching the Browns is the same thing as working secret service for the freaking president.