Tomlinson Getting Hurt Helped SD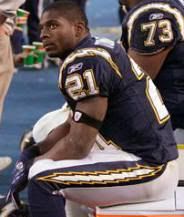 After Darren Sproles took the swing pass from Rivers for a touchdown, and Turner ran for 70 yards as an injury sub, the issue became prevalent. My Dad inferred that maybe it wasn't all LT — maybe it's the Chargers' line. I'm not so sure about that since Tomlinson has been doing it for like 7 years with different lines in front of him and no passing game to work with, but there's something to be said about the way the Chargers played without Tomlinson against Indy. Brian Baldinger made a bold statement on the radio this week saying the Chargers were better off and helped by Tomlinson getting hurt. On the surface that sort of comment is ludicrous; how could last year's MVP leaving a game improve the team? Then you start to realize that maybe the defense dropped a few men out of the box to defend the pass and that Sproles made a play LT wouldn't have, allowing San Diego to win the game.
Sure the Chargers are probably better off with LT in the lineup, but just remember that when he's not out there, it's not like the team is only lining up 10 players — the Chargers have many other players who can capably fill the holes. That's probably why we've seen the Giants be successful without Jeremy Shockey; Eli's been looking at Amani Toomer as his secondary target and Toomer's made plays. Yes, San Diego will be hard-pressed to win if Rivers, Gates, and LT are banged up, but they won't be out of it. Just remember that the Chargers probably wouldn't have won last weekend if their MVP hadn't been hurt. And as weird as it initially sounds, it actually makes sense.