Michelle Wie Conveniently Withdraws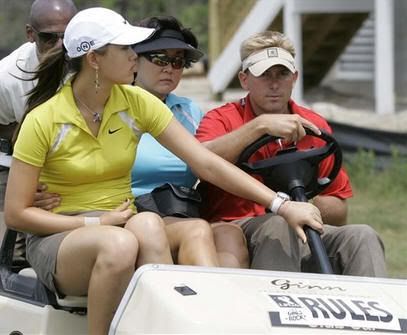 Let me get this out of the way first: I have no problem ripping on Michelle Wie. I feel she is fair game because of her parents, and because she hasn't shied away from the spotlight and endorsement dollars. Until she tells all of the aforementioned parties to bugger off, she's on my hitlist. Oh yeah, and did I mention she plays with the men when she has no business doing so? OK. On with the awesomeness. Michelle Wie withdrew from the Ginn Tribute on Thursday because of a low self-esteem wrist "injury." It was quite a well-timed withdraw:
The somewhat obscure Rule of 88 states that a nonmember who shoots 88 is forced to withdraw and subsequently banned from LPGA co-sponsored events for the remainder of the calendar season. Wie said later that she never considered the possibility, but soon after her score ballooned to 12-over on the par-72 course, her parents began consulting with each other and William Morris manager Greg Nared, who had a cell phone to his ear. Chris Higgs, the LPGA chief operations officer, soon drove up in a cart and spoke with Nared. Higgs had been talking about the Rule of 88 in the media tent, but he said he came out to Wie's rope line for "no particular reason."

Wie's score climbed to 14-over, and then, after she finished up on the seventh hole, Nared approached and Wie told him she was hurt. Moments later, she announced, "We're not going to play anymore."
How great is that? That's even better than when a pitcher gets lit up, and is subsequently placed on the DL the next day. The team then will find an injury that didn't exist before the start to justify the DL placement. I really, truly, cannot get enough of this. Another excellent move by the Wie clan. Heck, I might have to even create a Golf category on the site if they're going to keep up these antics. Fantastico!
(As first seen at Winning the Turnover Battle, via Ballhype)