Tom Brady and Gisele Bundchen Are Officially Married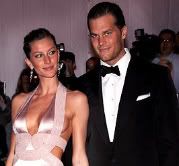 Much like Tiger who knocked up his wife while he was out with a knee injury, Tom Brady has been busy putting his personal time to use while he recovers from knee surgery. The Patriots' QB wed his supermodel girlfriend, Gisele Bundchen on Thursday in Santa Monica, confirming the reports I posted back in August that they were planning to get hitched. The details from US Magazine:
The ceremony — which began at dusk — was "very small and intimate," a source tells Us, adding that guests mostly consisted of immediate family. Brady's son with ex-girlfriend Bridget Moynahan, John Edward Thomas Moynahan, was also present.
…
A pal close to the couple told Us Bundchen and Brady are perfect together.

"She's definitely 'The One,'" the source said. "She really makes him comfortable and just happy."
Perfect together, huh? The only perfect completion for Brady that I know of involves him and #81 or #83, as long as they're on my fantasy team. Two thoughts here: amazing how Brady is able to date a famous supermodel and wed her without much distractions, while Tony Romo can't get through a month without a new Jessica Simpson issue. Secondly, how could something so big as the ultimate marriage go on in my town without me knowing it? I must be slipping in my old age. Meanwhile, I'm guessing Tom just did it for the money.