Stud Birdstone Has Some Super Sperm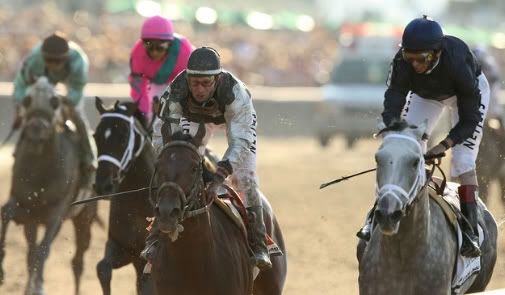 If the names of the Kentucky Derby winner this year and the Belmont Stakes winner sound familiar, it's because they should. There was some sibiling rivalry action going on Saturday in New York when Summer Bird won the Belmont Stakes beating Dunkirk and Derby winner Mine That Bird. As I referred to following the Kentucky Derby, Mine That Bird's father is Birdstone, the winner of the '04 Belmont Stakes. Birdstone also sired Summer Bird, who just won the '09 Belmont Stakes.
Not only does Summer Bird have a strong pedrigree on his father's side, he also has some excellent lineage from the mare. Going a couple of generations back, Summer Bird is the product of Secretariat, a previous triple crown winner, and Alydar, another one of the best horses in history. The mare for Mine That Bird is Mining My Own. I'm guessing there are some horses of note from her family otherwise they wouldn't have mated her with Birdstone, but none of the names stand out to me. So if anyone asks the question what had the biggest impact on the Belmont Stakes, it wasn't the length of the race, it wasn't the jockeys, and it wasn't the trainers — it was Birdstone. And man, does he have some super sperm.