Shepard Smith Steps Out of Studio B to Work Sidelines of Cotton Bowl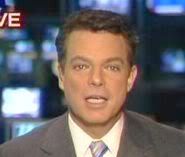 Count me as a surprised viewer upon seeing FOX News host Shepard Smith act as the sideline reporter for the Cotton Bowl on January 2nd in Arlington. When Shep initially popped up on the TV for a report, my first question was if that really was the same Shepard Smith who hosts Studio B. My next question was why the heck is he doing the game and does he know anything about football. While he might not be a college football expert, Smith is an Ole Miss alum he's apparently pretty connected with the program. He seemed to have a fine rapport with coach Houston Nutt during their halftime interview, but he seemed to have all his questions planned ahead of time and he wasn't paying attention/responding to what Houston said.
My biggest issue with Shepard Smith doing the sidelines of the Ole Miss/Oklahoma State Cotton Bowl game is credibility and bias. Seeing him serve as the sideline reporter for a sporting event is a major turnoff because we know what he does five days a week and it's not covering sports. I'm not saying he can't comment on Ole Miss football, I'm just saying that his reporting can't be too detailed or even given his bias. What insight could he possibly lend regarding Oklahoma State? Just because someone's a fan of a program means we put him on national TV to report on a game? What's next, Bill O'Reilly working the ALCS? Greta Van Susteren sideline reporting from a Packers game? Come on FOX, keep credibility in mind before you do this again; we want sports people, not news people. Or better yet, no sideline reporters at all.