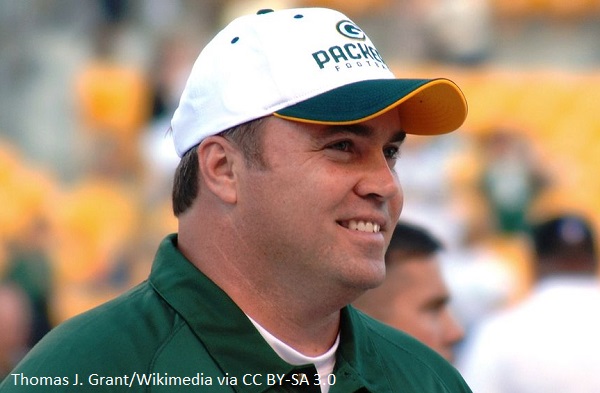 The Carolina Panthers' search for a new head coach is already well underway.
According to Adam Schefter of ESPN, the Panthers interviewed former Green Bay Packers coach Mike McCarthy following Sunday's game against the Indianapolis Colts.
Panthers interviewed former Packers' HC Mike McCarthy for their head-coaching job after their game against the Colts on Sunday, per league sources. Panthers declined comment on the coaching search.

— Adam Schefter (@AdamSchefter) December 23, 2019
McCarthy has been named as a potential candidate ever since the Panthers' job became available. McCarthy and Panthers owner David Tepper both hail from Pittsburgh, and Tepper has deep ties to the city.
McCarthy is 125-77-2 as an NFL head coach, and has a Super Bowl win to his name. If Carolina is looking for experience, particularly in the postseason, he very much has it. However, there were plenty of rumors that he and Aaron Rodgers did not see eye-to-eye in their final days in Green Bay, and there were some other unflattering reports about the coach at the time that he firmly denied.
The second-to-last week of the NFL regular season settled some things, but left a lot of things wide open in Week 17. That's good news for fans, but bad news for the teams and players who just weren't able to get the job done in the penultimate week of the season.
Which of those teams and players fell short in Week 16? Here are 10 disappointments.
Dallas Cowboys' offense
Simply brutal. Dallas hasn't been eliminated from NFC East contention (here is their Week 17 playoff scenario), but on the evidence, they deserve to be. Dak Prescott missed open receivers. When he hit them, those receivers dropped passes. Ezekiel Elliott was bottled up. Amari Cooper caught just four passes for 24 yards and was a non-factor. The finger cannot be pointed at one person, but this was horrendous from Dallas in a game where they could have clinched the division against a defense that hasn't exactly been elite.
Bill Callahan, coach, Redskins
This one is mostly a criticism from a fan standpoint. When Callahan's Redskins scored a touchdown with 29 seconds left, it felt like they might as well go for the win. A two-point conversion would put them ahead. Both teams were 3-11 and had nothing to play for except draft position. Washington fans could have used the lift. Instead, Callahan kicked the extra point, and Washington never even touched the ball in overtime and lost to the Giants. Maybe he's trying to get that No. 2 draft pick, but the whole thing felt very risk-averse when there was nothing to lose.
A disappointing Denver Broncos season has officially come to an end for defensive back Kareem Jackson.
On Tuesday, the Broncos announced that Jackson has been suspended for the final two games of the regular season for violating the NFL's policy on substances of abuse. The team said in a statement that the suspension stems from Jackson being arrested for driving while under the influence back in September.
"Kareem Jackson was arrested for driving under the influence on Thursday, Sept. 19," the statement said. "He immediately informed our team of the incident, which we promptly reported to the NFL and thoroughly reviewed as an organization.
"There are high standards for the personal conduct of all members of our organization, and we have expressed our extreme disappointment to Kareem for his poor judgment. Under the NFL Policy and Program on Substances of Abuse, he has been suspended for the Broncos' final two games of the 2019 season."
Jackson joined the Broncos this season after spending the first nine years of his career with the Houston Texans. The former first-round pick has 49 tackles, two interceptions and a forced fumble in 13 games.
Kyle Allen has not played well over the past month or so after many were quick to say he is worthy of taking Cam Newton's starting job, and the Carolina Panthers may now get a look at another quarterback down the stretch.
Panthers interim head coach Perry Fewell would not commit to Allen as the team's Week 16 starter while speaking with the media on Monday. He said a decision will be made on Wednesday, which means Carolina is at least considering the possibility of giving rookie Will Grier his first career start.
Interim head coach Perry Fewell at the podium. He says he won't make a QB decision until Wednesday. That's a shift from the norm – saying Allen will start in the week ahead, usually on a Monday.

— Jourdan Rodrigue (@JourdanRodrigue) December 16, 2019
Allen has thrown 10 interceptions in his last five starts, and the Panthers have lost six games in a row. They've cooled off considerably since they went 5-1 in the first six games he played in after Newton went down. Suddenly, Allen doesn't look as much like a franchise quarterback as he did when opponents had less film on him.
Grier, a former star at West Virginia, was Carolina's third-round pick in this year's draft. It would make sense for the Panthers to give him some reps now that they are 5-9 and out of the playoff hunt, but that doesn't bode well for Allen's future.
It seemed like a foregone conclusion at one point that Newton's days with the Panthers were numbered, but we have heard some reports recently that make that sound less certain. If he's healthy, there's no question Newton is a better player than Allen. The Panthers seem more likely to keep Newton this offseason if they bench Allen for the final two games.
It has been widely reported that the Panthers will look to trade Cam Newton this offseason, but that is not a decision the team has made yet. While Kyle Allen looked at one point like he was stating his case to be the quarterback of the future in Carolina, things appear to be less certain as the season winds down.
Newton recently underwent surgery to repair the foot injury that cost him the majority of the 2019 season, and Bleacher Report's Mike Freeman was told by a source that the Panthers have not made any decisions about whether or not they will part ways with the former NFL MVP. Injuries have obviously been a major factor in Newton's declining performance in recent seasons, so it makes sense for Carolina to wait and see how healthy he looks after his foot is healed.
Early indications have been that Newton will be fully healthy by March, which is when the Panthers must decide if they want to keep him on the roster and guarantee his $18.6 million salary for 2020. Of course, they could still trade him after that, and plenty of teams would be interested as long as the foot injury is no longer an issue.
Newton's $18.6 million salary for next season is a bargain for a starting quarterback, especially one with his skillset. He's also still only 30, which is why it sounds like the Panthers will need to be blown away by an offer if they move him. Carolina could decide it is too risky to give Newton a contract extension given his injury history, in which case trading him may be the best option.
If Newton is healthy, he can certainly help a contending team. The Chicago Bears have been mentioned frequently as a potential suitor for him, but other teams are sure to be interested as well.
The Carolina Panthers have already begun making big changes by firing head coach Ron Rivera, and there has been a lot of talk about a Cam Newton trade coming next. However, it is not exactly a guarantee that the former NFL MVP will be playing for a new team in 2020.
Newton is scheduled to undergo surgery in the coming days to repair the foot injury has sidelined him for almost the entire 2019 season. The goal is for him to be fully healthy in March, which is when the Panthers have to decide if they want to keep him on the roster and guarantee his $18.6 million salary for 2020. While Carolina is planning to explore trade possibilities, Ian Rapoport of NFL Media reports that they have not ruled out keeping Newton if the return is not significant.
Assuming doctors declare Newton fully healthy, there should be at least one or two teams that are willing to part with a high draft pick for the 30-year-old. While the injury concerns surrounding Newton are valid, he can be a game-changing talent under the right circumstances. The Kansas City Chiefs traded Alex Smith to the Washington Redskins two years ago for a third-round pick and starting cornerback Kendall Fuller, and the Denver Broncos acquired Joe Flacco from the Baltimore Ravens last offseason for a fourth-round pick. Newton should fetch more than that.
Newton's $18.6 million salary for next season is a value for a starting quarterback, but he will likely want an extension if and when he is healthy. He recently indicated he wants to remain in Carolina, though his reaction to the Rivera firing makes you wonder if he has since changed his mind.
The Carolina Panthers are looking for a new head coach after firing Ron Rivera this week, but don't expect them to turn to Jim Harbaugh.
Peter Schrager appeared on FOX's NFL pregame show prior to Thursday night's Bears-Cowboys game and said Harbaugh is not the team's top target.
There really never was any rumor suggesting the Panthers had interest in Harbaugh. The only place the two were linked was through a betting website that sent press releases to many sports writers about the odds on the next Panthers coach, which isn't a report or even a rumor.
Schrager says Panthers owner David Tepper will be open to a potential college coach to fill the position.
Tepper has already stated what he is looking for in a coach.
"What I want for the organization in general is a mesh of old and new," Tepper said. "Old football discipline, modern processes, modern analytics. But I respect old school discipline, too."
Wow, that sounds like the perfect coach! Does this person actually exist in the NFL, outside of maybe New England? Best of luck in finding him, David.
pixel2