Leave it to Michael Jordan to throw some shade at a current NBA star.
Jordan sat down with NBC's Craig Melvin for an interview on "Today" to talk about the two medical clinics he and his family funded in Charlotte to help underprivileged people. During the interview, MJ was asked whether he would still take Magic Johnson, Hakeem Olajuwon, James Worthy and Scottie Pippen as his four teammates going up against anyone. He said he would. Melvin brought up Steph Curry, and that's when MJ said Curry wasn't a Hall of Famer yet.
Michael Jordan claims Stephen Curry is not a Hall Of FAMER yet. pic.twitter.com/0Ul9iRbPVT

— League Alerts (@LEAGUEALERTSOFF) October 22, 2019
"He's still a great player. Not a Hall of Famer yet, though. He's not," MJ said, punctuating his point.
Jordan is notorious for giving great players a hard time. He used to do the same with LeBron James.
Curry has already made six All-Star teams, won three championships, two NBA MVP awards, a scoring title, and he is the greatest shooter in the history of the sport. He is a career 43.6 percent 3-point shooter. He has revolutionized the game. If he retired tomorrow, he'd be a Hall of Famer. Michael is crazy for saying otherwise.
Steph Curry responded on Wednesday to Kevin Durant's recent remarks about never feeling fully accepted by the Golden State Warriors.
Durant, who chose to sign with the Brooklyn Nets in free agency, was the subject of a feature in the Wall Street Journal last week. In the article, Durant reiterated a point he's made in the past about feeling like an outsider on the Warriors.
"As time went on, I started to realize I'm just different from the rest of the guys. It's not a bad thing. Just my circumstances and how I came up in the league. And on top of that, the media always looked at it like KD and the Warriors. So it's like nobody could get a full acceptance of me there," Durant said.
Curry, who was drafted by the Warriors in 2009 and has spent his entire career with the team, talked about Durant's remarks during an interview with ESPN's Rachel Nichols on Wednesday.
"I mean, that's tough," Curry said of Durant's remarks. "There's so many narratives that go on, especially when you're at the top of the league. No matter how, you know, the full transition happens to Brooklyn, him separating himself from the Warriors — that's gonna happen. I think he knows, you know, what we were about as teammates, what we were about as friends on and off the court. And again, nobody is gonna take away the accomplishments we had. But at the end of the day, whatever he, you know, needed to do to make that decision and however he wants to explain that — that's just what's gonna happen."
That's a lot of words from Curry that don't say much. It's a very professional, non-controversial answer. He's looking to try and see the bright side and talk about what they accomplished. But he's probably sick of Durant's complaining at this point, especially about issues that were always going to exist. Durant was not part of the core of Curry, Draymond Green and Klay Thompson; he was joining them. Of course he was always going to be a little different. How is KD the only one who doesn't see that?
In the Wall Street Journal piece, Durant also complained about the Warriors' motion offense.
"The motion offense we run in Golden State, it only works to a certain point," Durant said.
Curry was asked about that.
"Well, I don't care what plays we ran," Curry said. "We won two championships. And at the end of the day, we had a lot of talent and there was an expectation of us figuring out how to balance all that. And we talked a lot about it throughout the three-year run. It wasn't always perfect, but I think in terms of, you know, the results and what we were able to do on the floor, that kinda speaks for itself. We all wanna play iso-ball at the end of the day in some way, shape or form. But I'd rather have some championships, too."
You really can't get much better in terms of answers than what Curry offered. He's probably perturbed by some of Durant's comments but certainly not showing it. One report said he was bothered by the timing of Durant's Nets announcement. If he was, he's not showing it through his comments.
Ayesha Curry was mocked by Twitter trolls for having a good time at the opening of her restaurant this week, and her husband had her back as usual.
Mrs. Curry and celebrity chef Michael Mina were in Del Mar, Calif., to open their fourth International Smoke location. Ayesha was enjoying the night and decided to bust out the popular "Milly Rock" dance, which drew some criticism from the bowels of the internet.
Aye! Did #AyeshaCurry kill her Milly Rock? pic.twitter.com/48kQTIbKAO

— HOT 97 (@HOT97) July 17, 2019
After Ayesha was taunted with several memes and tweets, Stephen Curry responded to the trolls with an Instagram live video.
Steph Curry responds to the (very odd) social media critiques of Ayesha Curry dancing at her restaurant opening: pic.twitter.com/n59pW3UTBg

— Brady Klopfer (@BradyKlopferNBA) July 17, 2019
"Slow news day today I see, huh? Just make sure y'all send me the video of you dancing at your own restaurant opening," Steph said.
Steph and Ayesha always have each other's backs, which we saw during the playoffs with the way Ayesha went at Drake on social media. This time, it was Steph who decided to fight off the trolls.
Stephen Curry could be looking at his biggest workload in years next season, and he's ready to dive in headfirst.
In an interview with The Athletic's Marcus Thompson II that ran Sunday, the Golden State Warriors star was asked if he had plans for load management.
"Hell nah," Curry replied. "We've got a great opportunity to build something special with some hungry guys looking to prove themselves. There are so many narratives people can throw at us. But at the end of the day, I've never been the type to show up with any other mindset than to do what you do — hoop. We've got championship DNA. We know that.
"We've got our core, when Klay [Thompson] gets back," the former MVP added. "It's going to be an interesting year, for sure, all the way around. It's going to be challenging to really find that momentum early. But with the new arena, losing the Finals, this summer is a different vibe. Keeps you locked in."
After sharing the lead singer role with Kevin Durant for the last three seasons, Curry may now have a chance to return to a volume akin to his 2015-16 MVP campaign, especially with Thompson likely to miss the year with a torn ACL.
Though Curry is about to enter his 11th NBA season at age 31, the increased opportunity as well as the added motivation should help him power through.
Stephen Curry went out of his way to meet with Kevin Durant after Durant announced on Sunday that he was signing with the Brooklyn Nets, and many were surprised that Curry flew such a long way just to say goodbye. It would make more sense, however, if Curry was flying around the world to convince Durant to re-sign with the Golden State Warriors and never got a chance to give his pitch.
Marcus Thompson of The Athletic reported that Curry flew from China to New York to meet with Durant, but the trip ended up being about "respect" and "thanks" rather than recruiting. Thompson added that Curry wanted to be there "to wish Durant happiness and peace (and) express his support for his decision," but it seems obvious his initial goal was to make one final pitch to KD. According to Bill Simmons, the fact that Durant did not even give Curry that opportunity irritated the Warriors.
Here's some of what Simmons said about the situation on the latest episode of his podcast.
"The Warriors still feel like they have a puncher's chance to get him — enough that Curry is going to fly back from Shanghai to New York and land on Sunday night, right after free agency starts, and he has this determined time with KD to just talk with him and put a bow on everything," Simmons said. "Either, 'Hey man, here's how we feel about you…' and convince him to stay, and if Durant's not gonna stay they'll talk about that."
For whatever reason, Durant didn't wait until Curry arrived to announce his decision. Simmons was told that that surprised the two-time NBA MVP and rubbed the Warriors the wrong way.
"About an hour before the plane lands, all of a sudden it's KD is gonna be announcing on his Instagram that night, all this stuff and Curry's like, 'What's going on?' And then it gets announced he's signing with Brooklyn," Simmons said. "Curry's plane hasn't landed yet. He lands and decides to do the dignified thing and he goes to meet KD anyway, basically to say goodbye to him. But, from what I've heard, the Warriors took that personally."
Curry is a classy guy, but flying 16 hours from China to New York just to hang out with Durant and support his decision seems like a grand gesture even for him. It's not hard to believe he still felt he had a chance to persuade Durant, and maybe Durant gave him the impression he'd hear him out.
The relationship between Curry and Durant sounds like it was a bit complicated, so perhaps Durant didn't want anyone else trying to change his mind. We'll probably never know.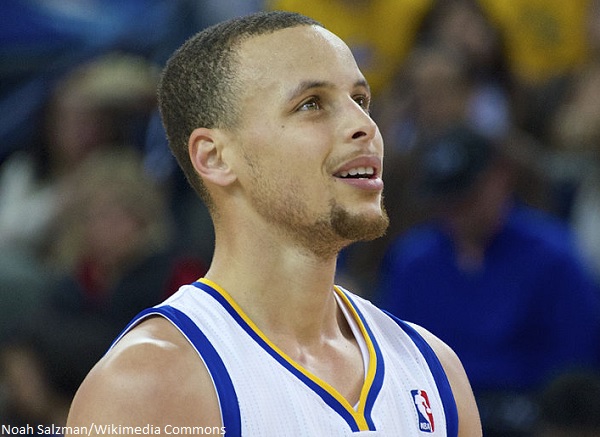 Steph Curry had to issue a correction to a media outlet after they got a quote of his wrong regarding the way he handled the Golden State Warriors' NBA Finals loss to the Toronto Raptors.
Curry's Warriors lost in Game 6 of the NBA Finals at home at Oracle Arena. Even though his season had ended in disappointment, he didn't sulk afterwards. Instead, he and his team of people (e.g. family, agents) gathered at his house. Complex Sports shared a quote about that from an interview they did with Curry and got it confused, saying the Warriors as a team celebrated at Curry's house.
Steph went on Twitter to set the record straight that it was his personal team, not the Warriors, who celebrated with him.
Not correct!!! I said "my team" as in my family and my friends that were with me at the game.

— Stephen Curry (@StephenCurry30) June 27, 2019
It really wouldn't make much sense for the Warriors as a team to be celebrating the loss together. But it does make sense that Curry individually chose to take a big-picture view and celebrate all the Warriors have achieved.
The story actually had been told before by Ramona Shelburne, along with a few additional details. She said Curry and his family ate In-N-Out Burger and played video golf throughout the night. That makes it sound much more like a splurge after something doesn't go your way, like a comforting sympathy pint of ice cream.
Ayesha Curry admits she sends husband Steph "spicy" photos to keep things fresh while he's on the road.
Ayesha was on E! News' "Daily Pop" to talk about her new show "Family Food Fight". She was asked whether she sends Steph "spicy photos" while he's on the road and said she sends him "hundreds. Hundreds of them."
Ayesha was then asked if she was worried about Steph being hacked and the photos going public.
"Absolutely! And he won't delete them off his phone," Ayesha said. "And he's not that secure, this phone. It's actually one of the scariest things in my life. But that's why I (only take them) neck down."
So that's the strategy: only go neck down that way you cannot be positively identified as being part of the photo. But if Steph's phone were ever hacked and the pictures came up, people would know who they came from.
Ayesha, who has three children with Steph, recently complained about craving attention that has gone away now that she's a mother. She even opened up about a botched plastic surgery she endured.
Here's video of her interview:
pixel2