Alex Rodriguez and Wife Split; Alex with Madonna, Cynthia with Lenny Kravitz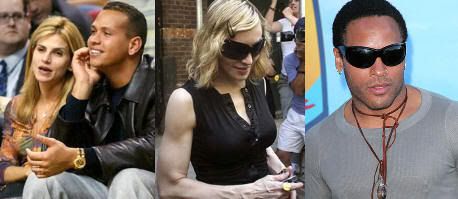 I didn't get a chance to post on the original A-Rod and Madonna rumors that were floating around the last two days, mainly because I didn't know what to make of them. Well, now it's starting to look a heck of a lot more like those stories were true. Both the NY Daily News and the NY Post are saying that A-Rod and his wife have split up, though no formal divorce papers have been filed. I'm guessing this news has little relation to the recent stories about A-Rod and Madonna popping up; the same reports say Cynthia has been cozy with Lenny Kravitz of all people, even before these stories were printed.
Everything seems plausible given the fact that A-Rod, Madonna, and Kravitz all have the same manager, Guy Oseary. I guess it was no coincidence that A-Rod decided to hire entertainment managers — he wants an in on that world, and he's certainly making the most of it. What's crazy to me is that A-Rod keeps clubbing like nobody's business. The way he's going, he'll soon be leading the American League in home runs despite his stint on the DL. Regardless of his love life and the best efforts of the tabloids to distract him, he still hits. That's impressive. As for Cynthia, I never really saw it and apparently A-Rod's over it. Hanging out with Kravitz in Paris the last four days? That's nuts. Between the two, I'd say Cynthia's overachieving and Alex's underachieving. Just my opinion.
(via Ballhype)