Jay-Z on Nets Signing LeBron: Decision Is Business, Not Personal, for James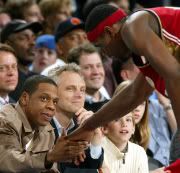 On the evening when LeBron James was reaching yet another milestone in his young but brilliant NBA career, rapper and Nets owner Jay-Z was in the house. And why wouldn't he be? He owns the team and he's close with LeBron James. Naturally the TV cameras made their way to Jay-Z where he was asked the infamous questions — will the Nets sign LeBron when he becomes a free agent? Jay-Z's response on YES Network:
LeBron James is one of the NBA's best players — everybody would love to have him on their team. I have a personal relationship with him but that's where it stops. His professional career is that, a business decision. If we put forth the best proposal then we would love to have him as any other team would.
Seems like practically every single team in the NBA is trying to free up money for the summer of LeBron, so it really will be up to him to make the call where he wants to play. I also think Jay-Z answered the question well. Regardless of what he and LeBron may have discussed privately, people can always change minds, so saying it's a business decision is probably the most neutral answer possible.