Knicks Had Spies on Larry Brown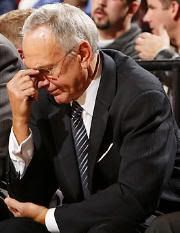 At least that's what Larry Brown is saying, and who wouldn't believe him? Well after leaving the Knicks following a situation that developed into a hideous mess, Brown gave an interview to Philadelphia magazine. In the magazine, Brown says that the Knicks spied on him:
Brown, now a Sixers executive, said, "Imagine when you get to work, they don't talk to you. They had security people standing close to me in press conferences, and spies throughout the arena."

Brown got in trouble with owner James Dolan not just for the horrendous record but for violating media policies that forbid talking to reporters without a public-relations official present.
Without hearing another side of the story, I'm automatically inclined to believe Brown here. If Dolan wasn't getting along with Brown and wanted to get rid of him, wouldn't he have spies on Brown to dig up dirt to find excuses to get rid of the guy? Isn't that how they reclaimed much of the money owed to Brown? And come on, these are the same Knicks that let Isiah continue employment after he cost them $10 million in a sexual harassment case. Do you really think spies are out of their realm of creepiness? I sure don't.