I Guess Tim Floyd Is Arizona's Band-Aid
UPDATE: We can thank ESPN for posting the story up on Wed night that Floyd was gone to Arizona, no questions asked. Instead, Floyd decided to remain at USC so this wasn't even an issue. I'm guessing I was right about Arizona treating him like a band-aid otherwise he would have signed had they rolled out a sweet deal.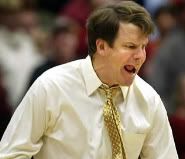 I'm having a really tough time digesting the news that Tim Floyd will be the next basketball coach at Arizona. I'm not surprised that Rick Pitino turned them down — I don't think Arizona's overwhelming enough to make him leave the good thing he has going at Louisville. I'm not surprised Mark Few turned them down since he seems to turn down every job offer that comes his way. And I thought they were settling on Jeff Capel. And then bam! next thing you know Tim Floyd is the new coach. After mulling over the news for quite some time, I think I finally figured out what's going on (congrats if it took you two seconds to figure it out, I'm not too sharp) — Floyd's just a band-aid.
Though Floyd has recruited his share of talented players to USC in the past few seasons, the Trojans haven't done anything too remarkable since he's been there. Yes, they've had three 20+ win seasons and made it to the tourney three years in a row, but they haven't been past the Sweet 16, and their record in conference play hasn't been overwhelming. He has strengthened the program, but not to the point where I would think Arizona would be interested. The Wildcats are striving for 1st or 2nd in the Pac-10 each year, Sweet 16 appearances, and 25+ win seasons. It never struck me that Floyd's that guy since he's never done anything better than what I just outlined.
The only logical conclusion to which I can arrive is that Floyd will be a quick-fix for a program destined to go in the crapper otherwise. Arizona's likely losing Chase Budinger, Jordan Hill, and Nic Wise to the NBA, and they already lost their recruiting class when Lute Olson stepped down. Maybe they're hoping Floyd can bring his recruits with him from USC to Arizona, get some addition by subtraction going, stay respectable in the Pac-10 for two seasons, and then go out and get the real, long-term guy they're looking for. That's the only thing that makes sense to me.