Les Miles Works in Crack on Alabama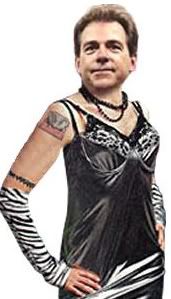 And why not, that seems to be quite the easy theme these days, no? So this totally flew under my radar, but luckily SNR host Tim Brando lives and breathes LSU athletics and was talking about the story on-air Wednesday, so I was able to catch it. Apparently Les Miles worked in a not-so-subtle dig on Alabama at a team rally as part of Tiger Tour 2008. Check it:
There was no question the attendees still bask in last November's victory over former LSU head coach and Tide boss Nick Saban, and Miles brought down the house when he urged the faithful "not to make too much of that game as it seems like a lot of teams in Louisiana beat that team," referencing Alabama's shocking subsequent loss to Louisiana-Monroe.
Much like the Carson Palmer comment, it's pretty harmless in the long run but pretty funny given the audience to whom he was speaking (Miles also clarified his remark, just like Palmer). Now that's added some extra fuel to the Bama/LSU rivalry. I really can't wait for that game just to see if Saban can stick it to Miles. And remember, as college football is coming up on the calendar, make sure you visit site sponsor Ticket Solutions for all your sports tickets needs. They have you covered for all your college football tickets needs including LSU football tickets and Alabama football tickets so you can be there for the big game in person.