Michael Vick Offered $1 Million to Pose in Playgirl for PETA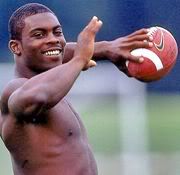 If you asked me about stories I never thought I'd be writing, this would probably rank up there with Tim Tebow impregnating a Filipino woman during one of his missions. A spokesman for Playgirl told Life & Style magazine that they're trying to get Michael Vick to pose in Playgirl. Here's the report via Digital Spy and the LA Times:
"I sent the request to Michael Vick on Wednesday. But we haven't heard back yet. I figured he paid back society for dogfighting, but what about the animals?

"This way he could donate a large sum to PETA and all he'd have to do is pose for the magazine! It's kind of a win-win situation."
Maybe Vick will offer them his upper half and tell Playgirl to photoshop in Greg Oden's bottom half. You know what? This would be for a good cause so maybe Vick could use his celebrity status for the right reason. Tell me chicks wouldn't dig it. Especially if he told them his name was Mike Honcho instead of Ron Mexico. I think this could work.