Jon Gruden Apparently Was Giving it to High School Referees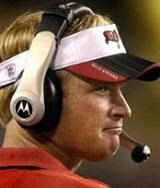 When you think of Jon Gruden, you think of the guy known as Chucky who can get off legendary rants. Sure he puts on his rose-colored glasses for his analyst work with ESPN, but we all know what Gruden is deep down. Apparently that Chucky side was on full display a few weeks ago during his high school football team's opener.
Chucky's been assisting Carrollwood Day School in Tampa according to Joe Bucs Fan (via Jimmy Traina's Hot Clicks), and got into it with the refs during the team's season-opener. Gruden was tagged with a 15-yard penalty for berating the refs and then removed himself from the situation by walking away to sit in the stands. If you thought that was the end of the story then you would be wrong.
An eye witness told Joe Bucs Fan that "Chucky continued to berate officials while watching from the stands, calling them 'Forrest Gump' and questioning calls." Now that's the Gruden I know! Chucky may be able to find positive things to say about everyone when he's doing his TV work, but you know that's not who he is deep down. Chucky, that's why we love you man. Don't ever change.