Larry Johnson Deserves to get Paid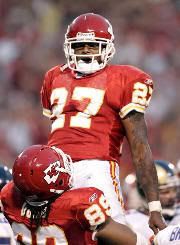 If there's one player whose plight I can cope with, it's definitely Larry Johnson. In a Q&A with Jason Whitlock of the Kansas City Star, Johnson says he's prepared for a holdout. Grandmama's set to make $1.7 million this year, but that's nothing compared to what he does. Johnson is a banger and a bruiser, and at the pace he's going, he's not going to have much of a shelf life. Let's break it down.
Larry carried the ball 417 times last year. He also caught 41 passes. The guy's a freaking workhorse like no other, and he's a fantastic back. Dude's 27-years-old, and he's taken the pill almost 900 times in his career. I don't think he'll be around a heck of a lot longer. Maybe what, five more years of good production? Most likely 2-3, right? So of course the guy wants to capitalize on a payday while he has the chance.
And as my buddy Michael David Smith mentioned to me, he's probably thinking he can do just what Priest Holmes did a few years ago, holding out until the Chiefs cave in and give him a contract. Normally I feel that athletes who sign deals should live up to them. But in this case, I definitely sympathize and understand Johnson's plight. He deserves to get paid. The Chiefs might as well do it now, rather than later, when LJ's on the downswing of his career.