Marquise Hill's Mother's Home was Burglarized During the Funeral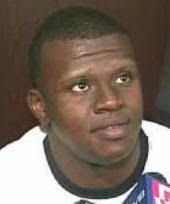 Of all the low, disgusting, horrendous things I've ever heard, this has to rank right up there. What kind of a lowlife person(s) could bring themselves to burglarize a home because they knew the entire family and town would be gone for the funeral? How can you live with yourself for such a thing? That's not some genius planning to be proud of; that's a hideous mindset to be ashamed of.
$16,000 worth of items were taken from the home during the funeral, including a TV and laptop. Not only do you have the death of your son to grieve, but you now have to make a trip to Best Buy to pick up some new electronics. I have really no other words to express how deplorable some people's actions can be. Honestly, how can you live with yourself after doing something like that?
(via MDS at FanHouse)