Mike Martz: Officials Cost 49ers the Game on Monday Night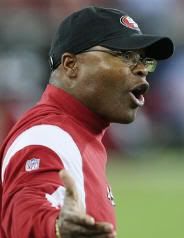 When Jason Hill got tackled at the 1 with like 20 seconds left, I said the worst thing that happened was that Hill slipped and went down shy of the goal, knowing it would be tough to punch in from there. I was right; the Niners were unorganized and dysfunctional in the final 20 seconds of their loss to the Cardinals. Still, the one thing I said on the final play is, "Why would they call that run from the two and a half or three yard line? From the half or one yard line, it's a great call, but not from the two or three." Well, good to know that Mike Martz isn't that much of an idiot and he's on the exact same page as me here. He says the refs screwed them over by giving them poor information:
"We go to the 1 — or the half-yard line — then spike the ball when, all of a sudden, officials tell us they're going to look at the replay. While they're looking at it, the ball stays at the 1. So we send in a play. Then, when they make their decision, they move the ball back to the 2½ and tell us they're going to start the clock on the official's wind.

"We couldn't change the play. We had to go with what we called. If it would've been at the 1, we would've made it. But they moved it and didn't give us any time. So what are we going to do? If they would've moved it to the 10 we still would've had to run the play that was called. We got screwed because of the spot, first and foremost."
The head of officials says that the ball was spotted at the two because Frank Gore was ruled as down for a loss of one on the run where he was tapped and fell. Moreover, had the spike following the Gore run stood, the Niners would have been flagged for illegal formation and penalized five yards. Now that we have more information … I'm just relieved to know that Martz is on the same page as me here. Additionally, the final 20 seconds of the game was managed so poorly by the Niners that it really reflects negatively upon the coaching staff. How could they be so lost about something so critical like time on the clock and spot of the ball? They really cost their team on this one. And where was Shaun Hill to audible out of the call realizing it wasn't going to work?